Digital Workers Are on The Move. Could Baku Become A New Tech Hub?
By BCG authors Shahar Lavian, Deborah Lovich, Or Klier, Konrad von Szczepanski, Kirill Tuishev and Polina Kempinsky
Higher pay is the top motive for relocating. But understanding other drivers of choice can help tech hubs and employers boost their appeal to global digital talent.
A great global migration is in the making. Around 40% of the world's digital talent pool is hunting for new jobs, according to BCG research, with many workers open to changing locations. And competition for their services has never been hotter.
But what exactly is this mobile digital workforce looking for when exploring new opportunities? And what factors influence their decision about where to move? Such insights could be very valuable to organizations, as well as cities and nations aspiring to build the next great tech hub.
To better understand these needs and motivations, we surveyed more than 1,000 workers who had relocated to 11 major tech hubs: Amsterdam, Bangalore, Berlin, Dubai, Dublin, London, Sao Paulo, Seattle, Shanghai, Singapore, and Tel Aviv. We asked about the most important factors in their relocation decision, as well as the determinants that will most influence whether they decide to stay for the long term. Here is what we found.
1.1 A Profile of the Mobile Digital Workforce
First, a little about the mobile digital workforce. Around 70% of tech workers who relocate are male, and 75% are married. More than half of the tech migrants surveyed are engineers, digital programmers, or web developers. Roughly another 10% each specialize in mobile applications, artificial intelligence, and analytics.
More than three-quarters of digital workers were able to boost their pay by more than 50%.
The vast majority of digital talent that relocates does so early in their careers: More than three-quarters of respondents surveyed globally said they moved within seven years of entering the digital workforce. In most cases, they were either recruited by companies in their new location or were encouraged to make the move by employers at home who had operations abroad. Relatively few relocations were initiated by the workers themselves or by their friends, families, or local governments. Most tech migrants viewed their move as temporary, lasting no more than five years, and the vast majority we interviewed were in their second or third relocations.
Digital workers were able to substantially increase their annual incomes by relocating. More than three-quarters were able to boost their pay by more than 50%.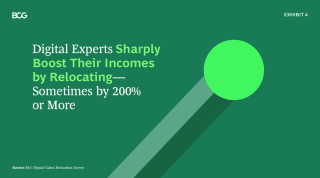 1.2 What Digital Talent Is Looking For
One of the clearest messages emerging from our research is that competitive pay is a prerequisite for attracting talent.
Availability of the right kind of job opportunities is also critical to recruiting digital talent. Thirty-six percent of respondents globally said they relocated to pursue jobs at a specific company and 33% in a specific industry. The hottest sectors are big data and analytics and artificial intelligence, both cited by 17% of respondents globally. Cybersecurity and fintech followed, by 12% and 9%, respectively.
When it came to motivations for remaining in the new location, the opportunity for higher income again emerged at the top. But factors such as the ability to gain citizenship, improve lifestyle, and manage family concerns become more important. Access to high-quality educational opportunities is also an important draw. Sixty-seven percent of respondents who studied in the new location did so because of higher quality, while 85% sought advanced degrees.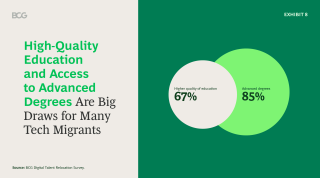 1.3 Non-Work Issues Also Sway Relocation Decisions
While pay and specific jobs are paramount, the mobile digital workforce is also concerned with quality of life.
While pay and specific jobs are paramount, the mobile digital workforce is also concerned with quality of life. Around 60% said that a better standard of living figured into their choice of location. Work-life balance and personal safety were also important. Roughly 30% of respondents placed a high priority on communities that reflect similar values to their own. Others cited the location's climate, after-work activities, and the ability to make friends.
Lifestyle considerations are particularly important because roughly two-thirds of respondents live with a significant other and children. Asked to name the biggest obstacles to their relocations, two-thirds cited "family expectations." Nearly half listed the availability of apartments.
One interesting finding from our research is that some lifestyle factors are especially significant to the more than half of tech workers who regard themselves as religious. Twenty-four percent of these respondents cited cultural similarity as a key consideration in their move; only 15% of non-religious respondents agreed. Around twice as many religious as non-religious digital migrants listed community and health care plans as important.
Our research also found that potential employers must be sensitive to the particular difficulties digital workers face when moving to a new location. Forty-two percent of female digital workers reported that they had experienced gender-based challenges during their relocation process. More than one-third of female digital workers said that they experienced gender discrimination at their current locations and with their current employers and that they were concerned about their personal safety.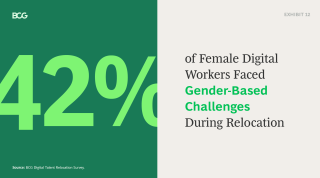 1.4 How Global Talent Views Specific Tech Hubs
In our research, we found clear differences in the way mobile digital talent views specific tech hubs. Shanghai and Berlin were favorites among digital workers who wanted a higher income, for example. Seattle was cited most often by those pursuing positions at a specific company.
For those relocating to Tel Aviv, by contrast, the opportunity to gain Israeli citizenship was a top draw. Dublin ranked highest among those seeking an improved lifestyle and Berlin highest among those who wanted to pursue a higher education. Dubai was among the favorite locations for those who regarded family considerations as very important.
Understanding these drivers of choice can significantly help tech hubs and international businesses boost their appeal to global digital talent. In areas where their hubs are already strong, policymakers can enhance their brand through international marketing and building on these strengths. In areas where they lag, policymakers can launch initiatives to make their hubs more globally competitive. The hubs that succeed in this competition for global digital talent will see innovation-led growth well into the future.
Kirill Tuishev, Head of BCG Baku, BCG Managing Director and Senior Partner, Head of Energy in the EMC[1] region, commented: "Never before has the battle for digital talent been more fierce, and the demand will only grow. Digital workers are necessary to maintain competitiveness and development of individual companies and the country's economy.
Each of the technology hubs (e.g. Dubai, Berlin, Dublin) offers its own attractions. It is important to note that everyone is looking for a little bit different things. One size doesn't fit all.
Given that there is a large pool of digital talent in the region of Central Asia, Azerbaijan, India and Iran, Baku could well claim the role of a new digital hub using the current window of opportunity. To do this, the city will need to formulate its competitive value proposition, which will include both material and non-material incentives, combining it with a global promotion campaign."
---
[1] ЕМC – Eastern Мediterranean Caspian region: Azerbaijan, Uzbekistan, Кazakhstan, Italy, Greece, Turkey, Israel.