Janel Najafli: A Shining Star of Violin Virtuosity
By Neil Watson, MA, Fellow of the Royal Society of Arts.
I would like to introduce a leading Azerbaijani musical talent who recently celebrated her 20th birthday– Janel Najafli – who has achieved great popularity in both her motherland and overseas.
Janel was born in Baku on 24 March 2002. From the age of two-and-a-half to five years, she was a member of the Aysel Theatre, created by Ogtay Zulfugarov, the late Azerbaijani artist, popular children's composer, and People's Artist. It was he who composed the music and lyrics for the song Janeldir adim (My Name is Janel), which he presented to Janel and she performed at the age of four years.
In September 2008, Janel commenced her studies in the First Class of the Bul-Bul Secondary School of General Education and Music, focusing on the violin. Whilst in the Third to Sixth Grades, she also focused on composition in the class of composer Ayaz Gambarli who, in turn, had studied under the legendary composer Arif Malikov. To date, her oeuvre comprises four works.
In 2012, she performed one of her compositions at a concert organised by the Bul-Bul School, with the participation of Arif Melikov. However, her focus currently remains on the violin, rather than composition. From the end of the Third to the Fifth Grade, Janel was a member of the Tutti Azerbaijani State Orchestra for Children, created by People's Artist Teymur Goychayev, Director, Bul-Bul School. Subsequently, Janel became a member of the Azerbaijani Youth Orchestra, occupying the prestigious first violin seat.
Janel's inaugural solo violin performance was in December 2014 during the Baroque Festival in the International Mugham Centre.
A staunch patriot, Janel has repeatedly performed at events commemorating the martyrs of Black January and the Khojaly Massacre, together with many other events and concerts. She has been presented with several Thanksgiving (Gratitude) diplomas, including one in Istanbul at the Turkic World Film Festival in 2016. She has also performed at the Rostropovich House Museum, and during several events at the Azerbaijan National Academy of Sciences (ANAS).
In February 2018, she played at the British Business Group's event in the Four Seasons Hotel, Baku, attended by H.E. Dr Carole Crofts, UK Ambassador to Azerbaijan, attracting myriad plaudits.
During 2017–19, Janel has actively participated in the Support to Youth (Ganjlara dastak) Project, organised by Murad Adigozalzadeh, the internationally-renowned pianist and educator at Baku Music Academy. In November 2017, she was featured on the Modern Youth of Azerbaijan television programme.
Furthermore, Janel has branched out into popular music, and was invited to perform in the orchestra accompanying popular singer Emin Agalarov in his landmark Emin with Orchestra concert at the Heydar Aliyev Palace, Baku, in December 2017. Her appearances led the newspaper Azerbaijan Muallimi to publish an interview with Janel in September 2019.
Janel was the only student in the Republic of Azerbaijan to be admitted to a higher education institution (Baku Music Academy) during the 2019 academic year out of competition (without exams). This was due to the fact that she participated in the Grumiaux (formerly Bravo) competition in Belgium, which the Azerbaijani Ministry of Education recognises as facilitating the admission of violinists to non-competitive universities. In August 2020, Azerbaijan Muallimi published yet another interview about Janel's success in the US, and Channel 5 invited her to appear on Internet TV. In February 2021, Janel was nominated as a Person of the Year in Plzen, Czech Republic for her achievements in 2020 and she was awarded the Orpheus Prize. She was the first foreign recipient of this award.
In February 2020, Janel performed a duet with her Czech teacher Roman Fedchuk, a Professor at the Czech Conservatory, and shared the stage with the prominent People's Artists pianist Murad Adigozalzade and conductor Elshad Bagirov at the Azerbaijan State Philharmonic Hall.
Thereafter, in the US-based online Bolder Bach Festival, Janel was one of the 273 participants from 39 countries and 10 out of 49 recipients in the 'University' category, and was selected as the Audience Favourite, winning both the Jury and Audience Vote.
In November 2021, Janel gave a solo concert organised by the Embassy of Azerbaijan to the Czech Republic, and participated in the event organised by the Diaspora Committee dedicated to the Second Karabakh War Victory Day in Prague. More than 30 Diplomats and Ambassadors participated in this event.
In February 2022, Janel performed in another two events in the Czech Republic, dedicated to the 30th anniversary of the Khojaly Genocide and the 80th anniversary of the Lidice Massacre, the latter being attended by Petr Fiala, Czech Prime Minister. Her repertoire included such emotional pieces as Songs My Mother Taught Me by Dvorak and the Main Theme from Schindler's List by John Williams.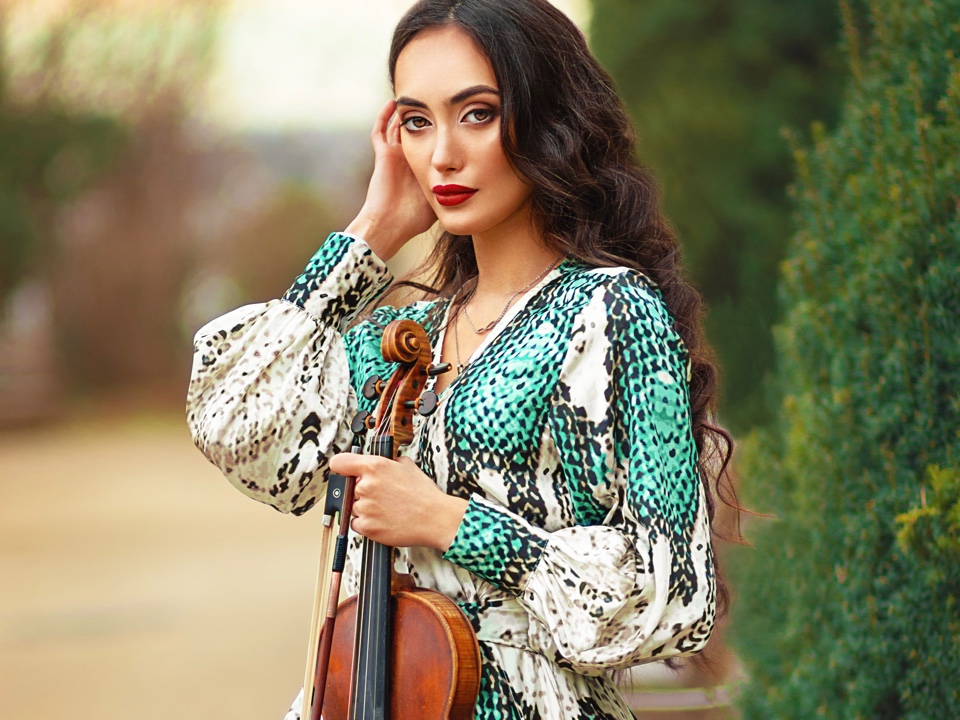 Achievements and Prizes:
2015: First Prize: Karavan Kulturi International Competition Festival, Poland
2016: Honorary Diploma: Josef Micka International Violin Competition, Prague, Czech Republic, for performing Zolushka by Sergei Prokofiev
2016: First Prize: Rodniki dushi (Soul Spring) Republic Competition, Baku, Azerbaijan
2016: Vladimir Spivakov Festival, Moscow, Russia (selected candidate, and the sole violinist)
2016: First Prize: Futures Stars International Competition, Baku, Azerbaijan
2017: First Prize: Testene Art Baku International Competition, Baku, Azerbaijan
2018: Third Prize: Grumiaux (formerly Bravo) International Violin Competition, Brussels, Belgium
2018: First Prize: Third Azerbaijani Republic Music Competition dedicated to the 95th anniversary of National Leader Heydar Aliyev, Baku, Azerbaijan
2019: First Prize: 1st International Violin Competition named after Azad Aliyev, Baku, Azerbaijan
2020: First Prize: 3rd International World Harmony Competition, Baku, Azerbaijan
2020: Audience Favourite: Boulder Bach Festival, Colorado, USA
2020: Third Prize: Karabakh International Culture and Art Competition, Azerbaijan, Duet Category
2021: Worldvision: First Prize – First Round
2022: Worldvision: Grand Prize – Second Round
Janel is currently studying the Third Course of the Baku Music Academy (Correspondence Education) and at Plzen Conservatory, Czech Republic (Full-time Education) under Professor Zahra Guliyeva, People's Artist of Azerbaijan and professor Roman Fedchuk, respectively.
Janel stated: "I love my profession very much, and promise to glorify my country, and maintain my dignity at all times through my achievements in Azerbaijan and overseas. I would particularly like to express my sincere thanks to my wonderful perfectionist teachers."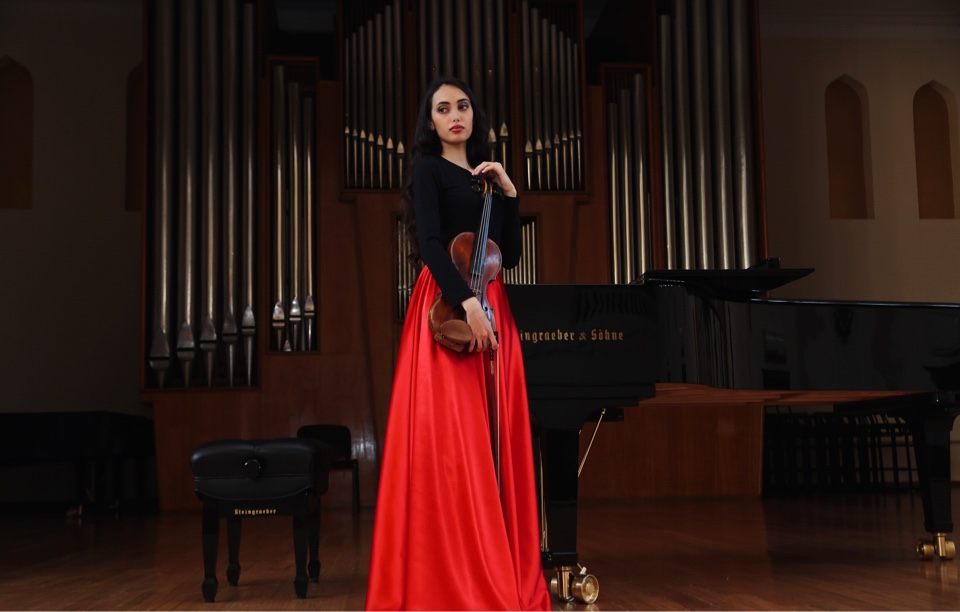 Testimonials:
Muhammedjan Turdiyev (Turkey), Juror, Grumiaux Competition:
"Janel's performance made a great impression on us all. She clearly has great musical ability on the violin. I hope she will become a famous musician in the near future."
Professor Roman Fedchuk (Czech Republic), Janel's current teacher:
"My first acquaintance with Janel was at the Grumiaux Competition in Brussels. Janel appeared to be a very fragile girl, yet her performance was so unexpected, full of temperament and precise, yet rich. It was purposeful, yet enchanting and indicative of great potential. I am very pleased to welcome Janel in my class this year; we have exciting and productive work ahead of us, and I look to her future with great hope and joy. Janel has bright and successful prospects. In the future, I see her not only as a wonderful violinist, but also as a wonderful musician."
Igor Tkachuk (Belgium), Chairman of the Jury, Grumiaux Competition:
"It is not difficult to be a good teacher for students like Janel. Her purposefulness, hard work and diligence help her easily achieve the desired results in violin performance. It is no secret that a person who plays a musical instrument expresses their feelings and emotions. In the case of Janel, the depth and sincerity of these attracts the audience and forces them to believe in her as an artist. Simultaneously, she has the ability to feel the beauty of sound, which is one of the most important qualities for a violinist. This colourful aural palette makes her performance even more colourful and interesting."
See www.janelnajafli.com for the latest news and music from Janel Najafli.